Women's Suffrage Centennial 2020 Centennial Sculpture Project
AAUW members can now all participate in the WSC2020 Centennial Sculpture Project by signing up for the times when the artist, Susan Burton, will be in town and working on the project.
No experience is necessary, just come to 125 Market Street to help place tiles on the sculpture templates. Anyone teenage or older can come to help. It's a fun-filled creative play time putting together tiles to make the images.
To sign up, go to womanspace-rockford.org, then EVENTS, then choose WOMEN'S SUFFRAGE. You can sign up for times in March, April and May when the project is being worked on.
You can also support the project with a donation. Funds are needed now because materials have to be bought for the sculpture.
To make a donation, see the documents linked below
WSC2020 donor letter    and    WSC2020_Sponsorship_Form
or go directly to: charity.gofundme.com/wsc2020il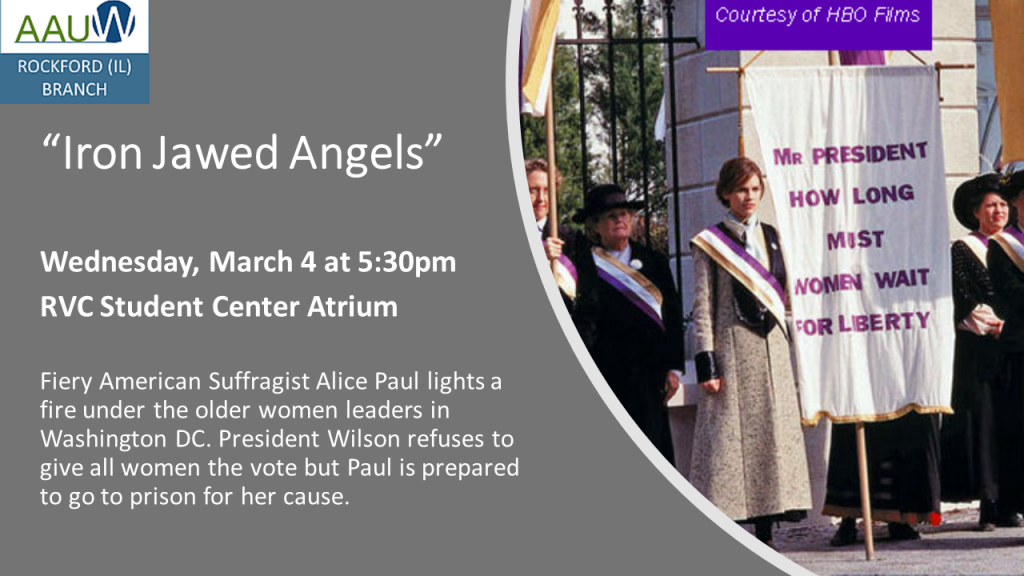 Event notice – Iron Jawed Angels on March 4
Our online calendar provides dates for local and state AAUW events. We also periodically provide information local partner program presentations.
Branch calendar LIST VIEW – 2019-2020
---
About the Rockford Area Branch | Learn more at the national website
---
Want to renew your membership online? Learn how.

There are lots of reasons to support your local branch. | Interested? See AAUW membership.