Women's Suffrage Centennial 2020 Centennial Sculpture Project
Work is progressing on the Women's Suffrage Centennial Sculpture project. The Steering Committee plans to unveil and dedicate the central tower at 11:00 a.m. on October 31, 2020. The site will be on the YMCA property near the log lodge and along the bike path.
Work will continue on the six benches through the winter months. No experience is necessary. Just come to Womanspace, 3333 Maria Linden Dr, Rockford, IL 61114 to help place tiles on the bench templates. Anyone teenage or older can help. We will have a social distancing space to work in and we will wear masks.
To sign up, go to womanspace-rockford.org, then EVENTS, then choose WOMEN'S SUFFRAGE. Times will be announced.

Membership Events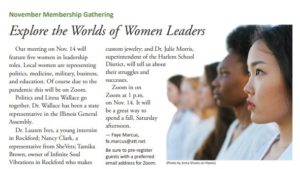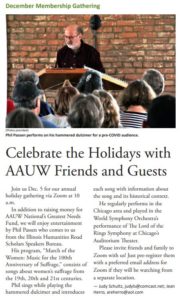 Rockford University Fall 2020 Online Brown Bag Series

Join us via Zoom for the Fall 2020 Online Brown Bag Series at Rockford University
Mondays at 12 p.m. on Zoom:
● November 23 at 12 p.m. Dr. Renee Just, Associate Professor of Leadership: "Connecting the Dots: Preparing for the Underprepared"
More information will follow for each individual talk. Pre-registration is required.
For more information about this series, contact Dr. Marilen Loyola at MLoyola@Rockford.edu or Dr. Orhan Erdem at OErdem@Rockford.edu.
Our online calendar provides dates for local and state AAUW events. We also periodically provide information local partner program presentations.
Note: Due to COVID-19 cancellations, please look at the Initiative and the online calendar for more details on scheduled events.
---
About the Rockford Area Branch | Learn more at the national website
---
Want to renew your membership online? Learn how.

There are lots of reasons to support your local branch. | Interested? See AAUW membership.