Rockford Women's Suffrage Plaza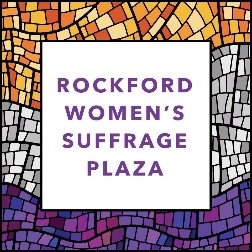 The Steering Committee of the Women's Suffrage Centennial 2020 is proud to announce the completion of the Rockford Women's Suffrage Plaza.
On Saturday, August 21, 2021 at 2 p.m. we dedicated the six mosaic benches surrounding the beautiful sculpture adjacent to the YMCA Log Lodge. The creation and realization of our historic project will then be complete, though our work to maintain and sustain the plaza will not have ended.
This picture was taken with AAUW members from Aurora branch. They visited with Faye and Rosemary on October 16 to see the Rockford Women's Suffrage Sculpture and Plaza.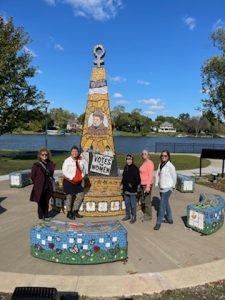 Article about the the project on the Wander Woman website
https://wanderwomenproject.com/places/the-womens-suffrage-centennial-sculpture-in-rockford-il/?fbclid=IwAR0SOG81OfT9zGD680l_vuSmv8H1VjJ3u6XqHEDLtBJ7vTns0ylwKq0kRnU

April 27, 2022
Linda Zuba, Rockford attorney and activist, will present the latest information about immigration via Zoom on Wednesday, April 27 at 6:30 PM. Linda has made many trips to our southern border to assist those seeking refuge.
Membership event: Saturday, April 30 @ 10 a.m. Mary's Restaurant on E. State St.
Please join Rockford Area Branch for a Membership Breakfast on April 30, 10:00 a.m., at Mary's Market Cafe, 4431 East State Street. All members are invited and encouraged to come, meet our newest members or bring a guest or potential member.
Complimentary breakfast will include pastries and beverage.
In celebration of the 50th Anniversary of Title IX, come dressed as or bring a 

memento

 of your favorite sports or successful woman figure. Title IX helped advance careers for women in lots of fields! 
Please reply to Judy Schultz by April 28 so that we know how many to prepare for.
May 6-7, 2022 – State Convention
Have you never attended an AAUW State Convention Would you like to? Our branch board would like to see more members attend this event. The board is offering a stipend of $60 to a first time attendee. If you are interested please contact our presidents: Stephanie Quinn (squinn@rockford.edu) or Christine Haeggquist (chaeggquis@aol.com).
Voting for AAUW and AAUW-IL board of directors and by-laws (National and State).  Voting for National ends May 16-aauw.org. Voting for State ends May 6 -aauw.il spring link.
May 21, 2022 – Branch Annual Meeting and Scholarship Luncheon
On Saturday, May 21, we are planning our annual STEM Scholarship Awards and luncheon. Each of the scholarship winners will speak briefly about her plans. You don't want to miss this inspirational celebration of accomplished young women.
Our branch annual meeting: Saturday, May 21 @11 a.m. ,Rockford University Regents Hall. Please check the INITIATIVE for all the information. Make your reservation with Judy Schultz (judyls@comcast.net) and send your check for lunch to AAUW Rockford Branch @ YWCA of Rockford, 4990 E. State St. 61108.
June 28, 2022 – Primary Election Day in Illinois
See AAUW Rockford area branch onlinecalendar for more information.
July 19, 2022 – 7:00 to 9:00 pm – STEM Scholarship Lawn Party
University Club of Rockford
945 N. Main Street
Support the STEM scholarship fund.
Rockford University Brown Bag Series
To view the Brown Bag Series schedule and to see other online events, click: https://alumlc.org/rockford
For more information about this series, contact Dr. Marilen Loyola at MLoyola@Rockford.edu or Dr. Orhan Erdem at OErdem@Rockford.edu.
Our online calendar provides dates for local and state AAUW events. We also periodically provide information local partner program presentations.
Note: Due to COVID-19 cancellations, please look at the Initiative and the online calendar for more details on scheduled events.
---
About the Rockford Area Branch | Learn more at the national website
---
Want to renew your membership online? Learn how.

There are lots of reasons to support your local branch. | Interested? See AAUW membership.