Save the dates
December 2nd at 10 A.M. Holiday Brunch at Wesley Willows Town Center with entertainment by the Rockford University Vocal Collective.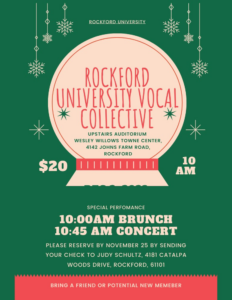 January 17th at 6:30 P.M. Catholic Charities presents, "Building A New Life", with stories from female refugees via Zoom.
To Be Determined: Social gathering at Anderson Gardens. Barbara Simon
February 24th at 10 A.M. The film, "History of Black Americans in Rockford", will be shown    at the Rockford Ethnic Heritage Museum followed by reflections from Skip Gilbert & Patrick Yarborough.  Lunch at Ambiance in downtown Rockford will follow for those who wish.
March TBD Members will tour the new Think Big 815 entrepreneurial center for women & minorities.
April TBD Learn about the Hispanic Chamber of Commerce with Sully Cadengo.
May 4th at 11 A.M.  Annual meeting and scholarship awardees.  Place TBD.
Future Programs
Book Beat
Click on calendar below for dates and details.
Rockford University Brown Bag Series
To view the Brown Bag Series schedule and to see other online events, click: https://alumlc.org/rockford
Our online calendar provides dates for local and state AAUW events. We also periodically provide information local partner program presentations.
Note: Due to COVID-19 cancellations, please look at the Initiative and the online calendar for more details on scheduled events.
---
About the Rockford Area Branch | Learn more at the national website
---
Want to renew your membership online? Learn how.

There are lots of reasons to support your local branch. | Interested? See AAUW membership.