The Simple Truth about the Gender Pay Gap
You've probably heard that men are paid more than women are paid over their lifetimes. But what does that mean? Are women paid less because they choose lower-paying jobs? Is it because more women work part time than men do? Or is it because women have more care giving responsibilities? And what, exactly, does gender bias have to do with paychecks?
AAUW's The Simple Truth about the Gender Pay Gap succinctly addresses these issues by going beyond the widely reported 80 percent statistic.
Read more.
---
Know Your Rights: Sexual Harassment and Sexual Assault under Title IX
Title IX of the Education Amendments of 1972 is a comprehensive federal law that prohibits sex discrimination in education. It covers women and men, girls and boys, and staff and students in any educational institution or program that receives federal funds. Local school districts, colleges and universities, for-profit schools, career and technical education agencies, libraries, and museums are all covered under Title IX.
Read more
---
Join an ¡Adelante! Book Discussion Webinar with the Author of A Disability History of the United States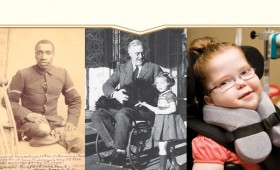 Join AAUW and our ¡Adelante! Book of the Month Club in commemorating National Disability Employment Awareness Month as we talk with Kim E. Nielsen, Ph.D., about her book A Disability History of the United States, a "lively historical record that fills a gap in the literature."
Have a question for the author? Make sure you submit it along with your registration form so that we can cover it in the session or follow up with you directly.
Read more
---
Membership Payment Program (MPP)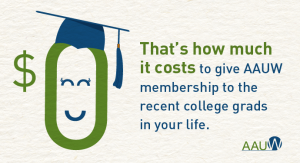 The Membership Payment Program (MPP) is a secure, online dues-processing alternative to the regular print version Branch Dues Report remittance process for AAUW branches and states. This free tool is located within AAUW's Member Services Database (MSD).
For Branch and State Participation:
AAUW states must first participate in order for branches to have the option to do so. If your state is not a participant contact the state president who authorizes use of the MPP and urge them to sign up!
---
AAUW Work Smart Salary Negotiation Trainings Now Available Across the U.S.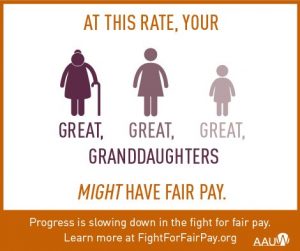 The AAUW Work Smart salary negotiation program that helps women hammer away at the gender wage gap will have greater reach this Equal Pay Day, due in large part to frustration with the status quo. Left on its own, the gender wage gap won't close for another 135 years, which is unacceptable and explains why numerous cities are collaborating with AAUW.
AAUW Work Smart has expanded beyond Boston, where it first launched just two years ago, to Washington, D.C.; Tempe, Arizona; and Long Beach, California.. Read more
---
Skill Training Webinars for Members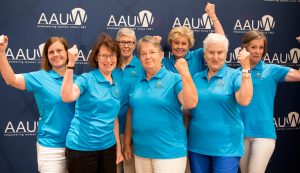 Skill-training webinars are an easy way to learn strategies and techniques that can help your branch grow and give leaders the confidence they need to take on new challenges. Skill-training webinars will be held on the second Tuesday of every month at 7 p.m. ET.
Read more
---
How Would You Like to Work the Same Hours for Half the Pay? That's the Gender Pay Gap for Latinas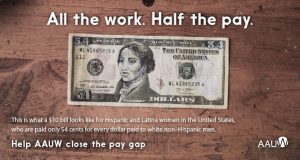 Thanks to the gender pay gap, Latinas are paid 54 percent of what non-Hispanic white men are paid. That means it takes Latinas almost an entire extra year of full-time, year-round work in order to be paid what the average white man took home by December 31. Think about how that adds up over a lifetime, and we're talking about losing a substantial chunk of change — change that could have greatly aided Latinas and their families.
Read more.
---
September 25, 2017: Native women's Equal Pay Day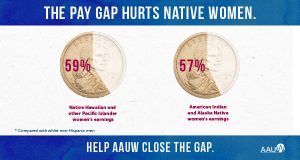 Native Women Have to Work 9 Extra Months to Make the Same Salary as White Men Made Last Year. September 25, 2017, marks Native women's Equal Pay Day, the day that the wages of American Indian and Alaska Native women catch up to the money white men were paid in 2016. (It took about 21 months to white men's 12, if you're counting.) We also use this occasion to recognize the pay gap that Native Hawaiian and other Pacific Islander women face.
Here's why you might not already know about this particular pay gap.   Read more.