Now is the time to become an advocate. Here are some easy tools.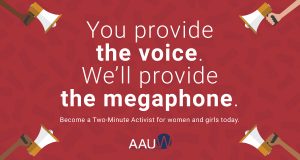 From AAUW:  AAUW Action Alerts, 2 Minute Activist from www.AAUW.org.
Daily Action for your smartphone: text ACTION to: 228466. They will send you a message to include your zip code and then you will receive a daily message notifying you who to call.
5 Calls – go to 5calls.org for more information. You can also download the application to your smartphone from either the Apple App Store or Google Play. 5 Calls provides phone numbers and scripts so calling is quick and easy. It also uses your location to find your local representatives so your calls have more impact.
Resistbot: text RESIST to 50409. Resistbot asks for your name and information to find your elected officials. It then turns your text messages into daily letters to Congress. Go to https://resistbot.io/ for more information.
---